Well, I should be asleep right now but I've run into a very cool internet dictionary tool. I've been a faithful follower of Hồ Ngọc Đức for the last several years and still use his dictionary on a daily basis because of its ease of use. He gives me the option to search different dictionaries at the same time, which saves me a lot of time when I'm translating and proofing at work. Thanks Mr Đức!
I occasionally cruise through the list of online Vietnamese to English dictionaries, and have come across some interesting ones (to see a list I compiled last year of my top dictionary resources plus other interesting sites relating to Vietnam, please see my wedding website) but nothing to compare to Mr Đức's work. I do remember coming across VDict a while back, which claimed to be the best dictionary online and had hopes of becoming a whole community based on internet dictionary lookup for Vietnamese. It sounded nice, but the site looked far from it. Until now.

VDict has become a high-functioning Vietnamese-English (and French and Chinesedictionary tool that has several nice "tiện nghi" that come in handy. Though it does not implement multiple dictionary lookup, it does support searching for the term in the definition, which I have yearned for with my current online dictionary. It also allows exact, broad or fuzzy lookup, as well as providing IE and Firefox toolbar and search plugins. It claims to have the "one and only free translating service" which works well for titles and occupations but has problems with phrases (just try "reading log"). But my favorite part is the forums.
The community they have built is great fun. It consists of just over 2000 members who are constantly volleying different Vietnamese and English phrases to see who can come up with the best translation. I've posted a few things and it's great to converse with people who are as interested in the mundane aspects of language as I am (but not too technical because I get lost in linguistics). Unfortunately, as I've seen with other Vietnamese language forums, there are several posts where non-Vietnamese-speaking men are requesting a translation of the text message or email they received from a Vietnamese woman. Or they want to translate their message into Vietnamese. I don't like that, but I try to keep my mouth shut. Or at least my hands off the keyboard.
Lastly, the great folks over at VDict have opened their script up for webmasters to integrate the dictionary into a webpage. Like right now, did you know that if you double-click any of the words on this page (besides the links) that a definition will popup? How about if you select a multiple-word phrase and press Ctrl+Shift+A (try tiện nghi)? They have done a great job at debugging this tool and I think it's so great that I've added it to my website. So from now on, xanghe.blogspot.com will have a built-in dictionary (both Viet-En and En-Viet), including an actual dictionary input box where you can type in your word like a regular dictionary (on the right-hand side). This probably won't turn out to be incredibly useful, but it was way too cool to pass up.
Good nite all

UPDATE: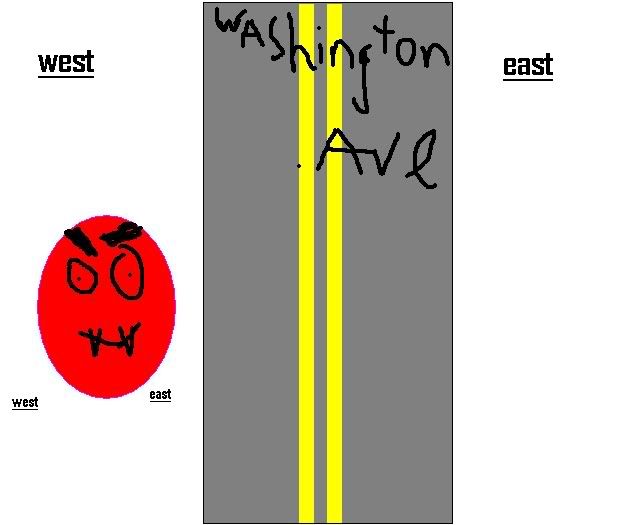 I posted a question about east and west in the VDict forum and I had a good discussion about how to translate it, but it ended with such a funny post that I had to share it here. I was basically told that I'm a bit confused with all my examples so here's a diagram, drawn by one of the
discussion members, to "làm sáng tỏ mọi thứ."
It ended with "Happy Halloween!"